Hectic times.
Playing catch-up with my accounting in preparation for tax-related paperwork which is absolutely no fun. I'm going to make it a point to get better and more efficient at this sort of thing over the next two years (which shouldn't be too hard given that I did go to business school and all).
It'll take me a few days to wrap up, alongside the assorted house things I need to do (few things to sand and paint, shelves to put up, etc.).
But even with all the non-artistic busyness, I have managed to get a handful of art things done...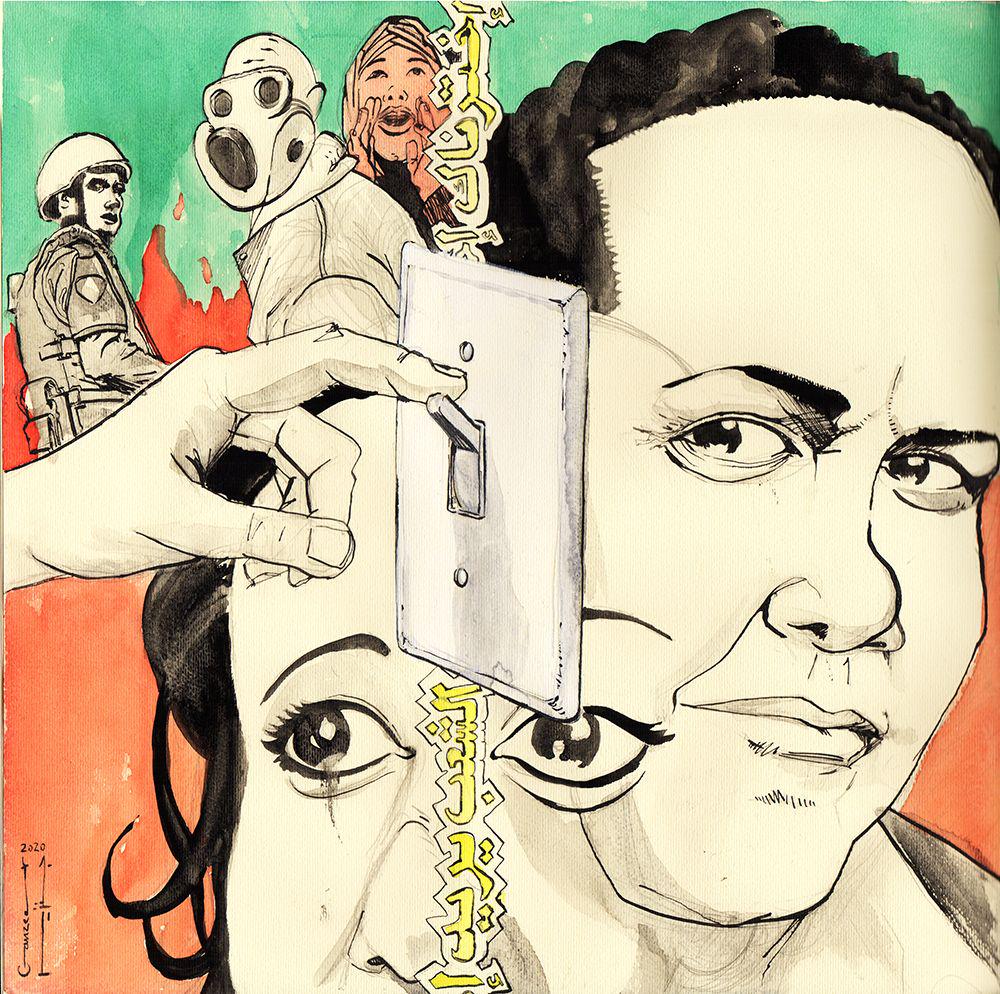 That's one of two illustrations for an op-ed for Middle East Eye, which they retitled: The Fate of Egypt is with the People. That along with a number of other edits throughout the piece were all sound choices for journalistic purposes, but I might share my original unedited piece sometime down the line.
Here's the second illustration I did:
It was the first time for me to play around with water-color in many many years, and I must admit I thoroughly enjoyed it. This may be something I do more of in the near future. Maybe maybe combine it with digital in an intentionally juxtaposing way.
I also did a couple of posters for a friend's short films, and the cover art for one of Ramy Essam's forthcoming singles. Although I went in with a pretty solid idea in mind, it was the first time where I needed to do different takes of the same idea before settling on the one. I can't show it just yet, but I'm pretty excited by the results. The DNA of which will dictate the look for several other singles as well as the cover art for the album.
Ah, and WE ARE ALL THINGS now exists in the world.
In personal news, I've gotten into the habit of exercising regularly as well as adopting a keto diet. First week—as most anyone who's tried it will tell you—was rough as fuck, but since then I've never felt better in my life. I cook my own meals every day, and with the aid of an assortment of cookbooks, I have to boast: I've become quite the chef 😁 (I've gotten into the habit of sharing meals on my Instagram stories, btw.).
I've moved twice in the past 7ish months? With one of those moves being across states. Those who have dealt with moving before know that it results in quite a bit of upheaval. And it looks like there may very well be more turbulence in my near future.
But, I do have a feeling (hope) that it'll all be for the better. 🤞
(Also btw, I forgot to report that Ramy Essam and I were on NPR/Pri-The World with Marco Werman back in January.)